Welcome to the "SmoreySwamp"

My name is Greg Smorey. I have been an independent "GM"/Event Organizer (EO) running Axis & Allies gaming events and more at GEN CON & ORIGINS since 1994 & 1999 respectively. This is my website dedicated to the Axis & Allies events I run at these con's and more...

I am also the creator and founder of the Annual
Axis & Allies "Spring Gathering" now in its 16th season in 2018.
The "Spring Gathering" is my own mini-CON featuring mostly Axis & Allies games as well as other house hold family games. This event began in 2002 and we hope to keep it going well into the future.

So, thanks for stopping by, take your time to look around and browse the SmoreySwamp for all things Axis & Allies and more...



I have to remind myself as well, but don't forget us on Facebook and
my own SmoreySwamp Forum linked above!



Missions in 2018

​"2018" Convention Dates:

Spring Gathering 16, Northern KY. (Cincinnati, Ohio area):
​April 6 & 7

Origins Game Fair, (Columbus, Ohio): June 13-17

GEN CON, (Indianapolis, IN): August 2-5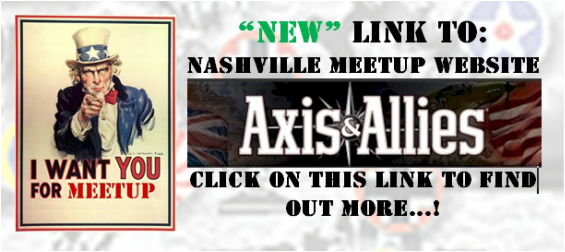 Yes, it is back! The most sought after Axis & Allies game is back in a great REPRINT of the original game.
Here are the details from my contacts at WotC regarding the new game:
* Components are the same number as previously released (over 650) but with possibly some
new sculps on some of the units!
* Rules have NOT changed but they include errata and FAQ
* MSRP is $100 (same as before)
* The map had very minor modifications like the Japanese marker was removed from Manchuria and Kiangsu
* The target release date for the new Axis & Allies Anniversary Edition is currently
October 6, 2017
but Avalon Hill & Wizards do not have an official ship plan to date.
Go to:
http://avalonhill.wizards.com/games/axis-and-allies/anniversary-edition
for more details!
The SmoreySwamp Gaming Forum is back and will make every attempt to re-capture any bridges that have fallen into enemy hands!
"Build me a son, O Lord, who will be strong enough to know when he is weak, and brave enough to face himself when he is afraid, one who will be proud and unbending in honest defeat, and humble and gentle in victory." - MacArthur
"Good tactics can save even the worst strategy. Bad tactics will destroy even the best strategy." - Patton
"Never tell people how to do things. Tell them what to do and they will surprise you with their ingenuity." - Patton
"The best luck of all is the luck you make for yourself." - MacArthur

the SmoreySwamp and the Spring Gathering are copyrighted and used By permission only